El Oso Grande Park Updates
Our El Oso Grande Park is beautiful  anytime of the year.  The Oso Grande Neighborhood Association (OGNA) takes great pride in ensuring that the grass stays green and the new trees in the perimeter are thriving at El Oso Grande Park.  Occasionally there have been some issues with the park's irrigation system (broken sprinklers or pipes) or children's playground equipment (a broken tire swing or children's slides), but due to OGNA advocacy and the great response of the City Parks Department the issues are quickly addressed.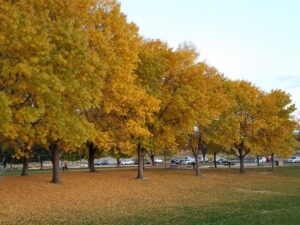 Installation of Solar Lights
OGNA members advocated in May 2022 with our City Councilor, Trudy Jones, and the Parks and Recreation Department for new Solar Lights to be placed around the Park for the safety and security of the public.  These new lights will provide low lighting via motion activation.   The new lights are being placed in the park right of way along Osuna Rd, Morris and near the Children's Play area.  The Parks and Recreation Dept received funding for the solar lights through the NM State Capital Outlay program.  OGNA is very appreciative of the City's support.   See the photos below.
Repainting of No Parking Curb along Osuna Rd.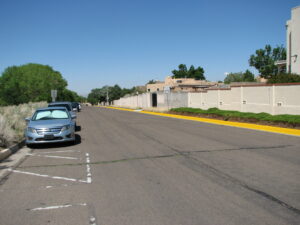 Thanks to Councilor Jones and her staff the north side of the curb along Osuna Rd has been repainted to remind visitors not to park on this side of Osuna Rd.  With all the activities in the park and children in the play areas it became a safety concern. We now have room for safety vehicles to pass or park. Additional parking is available on the other side of the park.