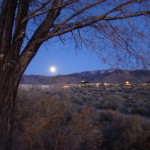 The Oso Grande Neighborhood Association (OGNA) was established in the mid-1990s.  The purpose of OGNA is to foster a sense of community among its members and fellow citizens; to work for the safety, cleanliness, and livability of its streets and homes; and to work for the preservation, restoration, promotion, and appreciation of Oso Grande.
GENERAL MEETINGS are held twice a year.  We usually hold the meetings at Bear Canyon Senior Center, on the third Thursday of the month, from 6:30 to 8:30 p.m.  Our pattern is to hold general meetings in March and October.  This is subject to change. Notification of upcoming meetings will be posted on this website.   OGNA Board members and other volunteers deliver flyers and post signs to alert residents of meetings.
NEIGHBORHOOD BOUNDARIES:  NORTH, Spain Road; EAST, Edwards Drive; SOUTH, Bear Canyon Arroyo; WEST, Morris Street.